Local community hospitals are slowly being taken over by larger healthcare chains, like Hartford HealthCare (HHC). In turn, that's started a nationwide trend of 'healthcare deserts' where critical services are lacking in rural areas and other underserved regions.
In early 2020, HHC executives closed the maternity ward at Windham Community Memorial Hospital (WCMH), sending expectant mothers far away to deliver their babies. The dangerous journey has proven to be difficult for too many families in the Quiet Corner. 
Not only was this decision made without consulting the community, HHC failed to follow the law by closing the maternity ward before filing a Certificate of Need (CON) with state regulators.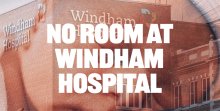 It's time for our state lawmakers to step up and hold these heartless chains accountable. Let them know what Hartford HealthCare's executives are doing to our communities. 
Click here to find your local legislator. 
Click here to stay up-to-date on this issue. 
Click here to watch and share the first ad raising awareness of the issue.