Are you feeling lucky when it comes to your health? Here in Connecticut, it can take more than luck to find local affordable, quality care. Chains like Hartford HealthCare (HHC) have been gambling with your well-being and that needs to change.
HHC has for years been cornering the market in communities all across our state by gobbling up smaller practices and limiting patients to physicians under their umbrella of control.
More recently, HHC executives closed the maternity ward at Windham Community Memorial Hospital (WCMH) which has forced expectant mothers to travel a long way from home to deliver their babies. This decision was made without the community's consent and in violation of state law.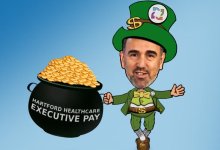 HHC will apparently stop at nothing to put profits ahead of patients. That's where HB 5449 comes in. This proposed new law reforms the Certificate of Need process by stopping chains like HHC from closing vital services before they receive regulatory approval.
Write your legislator today, urging them to support HB 5449, for the sake of Connecticut's mothers, babies and all patients. 
Click here to find your local legislator.
Click here to learn more about the proposed policy.
Click here to stay up-to-date on this issue.
Click here to watch and share our next ad raising awareness of the issue.