We are the presidents of two local healthcare unions and would like to make you aware of what's been happening inside the walls of  our local hospital.
Since Hartford HealthCare (HHC) took over Windham Community Memorial Hospital (WCMH), we have seen a dramatic shift from patient care to corporate profits. HHC's "partnership" and acquisition of WCMH has led to the loss of vital services such as our Intensive Care Unit (ICU) and our Labor and Delivery Unit. HHC is currently named in a class-action lawsuit for overcharging patients in its tier system. The chain has also been taken to court by Trinity Health of New England for monopolizing healthcare services.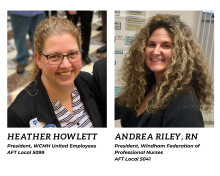 Unfortunately, the employees of HHC at Windham Community Memorial Hospital are not safe either. While we worked through the pandemic and patient surges (and continue to work through surges now), hospital administrators forced nurses to work hours well beyond their completed shifts. This practice, known as mandatory overtime, often happens 2-3 times per week and has been proven dangerous for both patients and healthcare professionals. Nurses, on a national level, as well as nursing organizations, have sounded the alarm on such a dangerous practice.
HHC has further failed to recognize the bedside experience of our members. Our unions have been in negotiations since December, 2021 and the chain has yet to agree to our proposals for addressing the root causes of a worsening patient care crisis. Instead, this multi-billion-dollar network disrespects the sacrifices we have all made throughout the pandemic. Furthermore HHC has not proposed any reasonable alternatives to mandatory overtime.
To add further insult, the chain has reported several of its own employees to collections for medical debt. Our members are forced to use HHC in-network services or face exorbitant out-of-network costs. Not all hospital physicians are "first-tier", thus leaving us with extra charges for services received at an HHC facility. WCMH management and HHC executives pay less than we do for the same insurance, while being compensated up to eight times the amount of a nurse's average salary and more than 20 times that of allied health professionals.
That is why we are calling on Connecticut's communities to join us in standing up to this heartless health chain. Help us hold HHC's executives accountable to their patients and to their employees by signing our petition: https://tinyurl.com/WCMHCommunityPetition. 
Andrea Riley, RN
President, Windham Federation of Professional Nurses, AFT Local 5041 
Heather Howlett
President, WCMH United Employees, AFT Local 5099