Union leaders laud membership vote to ratify a four-year collective bargaining agreement that resolves nearly year-long labor dispute.
Willimantic -  An overwheming majority of registered nurses at the Windham Community Memorial Hospital (WCMH) in Willimantic Friday voted to approve a settlement with their employer roughly two months following a two-day strike. The agreement with Hartford Healthcare (HHC), which operates the 130-bed acute care facility, addresses long-standing recruitment and retention concerns by making significante economic investments in the workforce.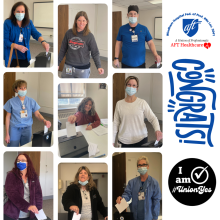 "The overwhelming support for this agreement proves what we've all seen throughout this pandemic; nurses united can never be divided," said Windham Federation of Professional Nurses President, Andrea Riley, RN. "The road to get here has not been easy, and we're grateful to our patients and the entire region for having our backs every step of the way. Now we can focus on what we do best -- delivering the great quality care they deserve," added Riley, a registered nurse in WCMH's emergency department (ED).
"It's unfortunate that our members were pushed into action in order to make this healthcare chain prioritize safe patient limits," said AFT Connecticut President, Jan Hochadel. "We have been fighting for the safety and well-being of the Windham community, which our members have served courageously throughout the pandemic. This contract improves their working conditions -- that means their patients' conditions are improved too," added Hochadel, who also serves as an AFT - American Federation of Teachers' national vice president. 
"We fully support our sister union members' vote to secure their contract," said Heather Howlett, CA, president of WCMH United Employees. "In the meantime, our members continue to work with the hospital's upper management to secure a fair contract that respects the foundational employees who keep their facilities running." WCMH United Employees represents the hospital's health, technical, environmental services, dietary, plant operations, registration and financial services professionals. 
The four-year collecive bargaining agreement is effective immediately and removes mandatory overtime language, a dangerous practice that is proven to be detrimental to both patients and caregivers, while retaining the nurses' rights to volunteer for additional shifts. It additionally decreases employee' insurance premiums. The local union's members had been working under their previous contract, which expired on December 31, 2021.
# # #
The Hartford HealthCare Organization of Professional Employees coalition (HOPE) includes AFT Connecticut-affiliated local unions representing nurses and health professionals employeed at Hartford HealthCare (HHC)-owned hospitals and facilities across the state. Its collective membership is committed, in solidarity, to providing the highest quality care to families and their community. 
The Windham Federation of Professional Nurses, AFT Local 5041, represents approximately 100 registered nurses at the Hartford HealthCare (HHC)-owned Windham Community Memorial Hospital (WCMH) in Willimantic and its partner medical facilities. The local union is a leading force in assuring quality, affordable care for their community and demanding a health system for the nation that puts patients before profits. 
For Release: Monday, December 5, 2022
Contact: Rosemary Picarelli | (860)989-5641 | rpicarelli@aftct.org | www.aftct.org