Since Hartford HealthCare (HHC) has taken over Windham Community Memorial Hospital (WCMH), there has been a dramatic shift from patient care to corporate profits. Since HHC's "partnership" and acquisition of WCMH, the community has lost vital services such as the Intensive Care Unit (ICU) and the Labor and Delivery Unit. HHC has been slapped with a class-action lawsuit for overcharging patients in its tier system.
Unfortunately, employees of HHC at Windham Hospital are not safe either. HHC has further failed to recognize the bedside experience of nurses and health professionals. The leadership of Windham Federation of Professional Nurses, AFT Local 5041 & WCMH United Employees, AFT Local 5099 have been working for months to bargain a fair union contract with the hospital's administration. Instead, the chain has proposed low wages as well as higher employee insurance costs, that threaten to worsen the patient care crisis.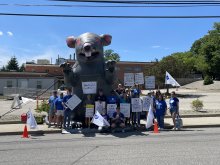 Worse, the chain has reported several of its own employees to collections for medical debt forced on them by their employer. That's on top of executive compensation eright times that of nurses' average salaries and more than 20 times that of allied health professionals. 
This multi-billion-dollar network disrespects wage freezes during times of economic hardship, selfless sacrifices through a pandemic and good-faith attempts to improve recruitment and retention. 
That is why local union leaders are calling on the community to join them in standing up to this heartless health chain.
Click here to sign the petition holding HHC's executives accountable to those they should be serving. 
Click here to share the previous ad exposing HHC's heartless medical debt tactics. 
Click here for the latest spot appealing to the community to stand with our caregivers.