After calling the nurses of Windham Community Memorial Hospital (WCMH) "heroes," Hartford HealthCare (HHC) has resisted fair contract proposals and allowed management to violate their rights. The nurses have since filed Unfair Labor Practice (ULP) charges calling out HHC's intimidation and threatening tactics. They are prepared to strike begining September 22nd if a settlement is not reached.

Union members out on strike often experience an immediate financial strain. As a result, the Windham Federation of Professional Nurses has established a Hardship Fund to support those in need. A committee has been formed to review applications and authorize distribution of funds not to exceed $250 per member, per distribution.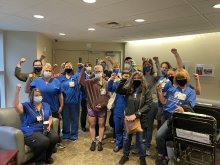 Our coalition is grateful for the support of our community and that of our sisters and brothers in labor. Any excess funds received will be used to support future hardships of members in good standing with AFT Connecticut-affiliated local unions.
Click here to make a donation to the Windham Nurses Hardship Fund.