Our WCMH Employees United sisters and brothers have been provoked to strike by Hartford HealthCare (HHC) executives' refusal to reign in Windham Community Memorial Hospital (WCMH) managers' unfair labor practices. They are prepared to walk out on October 24 if the dispute is not resolved as part of a fair, mutual agreement on a new contract. These courageous health professionals need our solidarity - and our support for the hardship they may face. 
As a result, we are accepting donations to a fund to assist members in need. A committee has been formed to review applications and authorize distribution of resources not to exceed $250 per member, per distribution.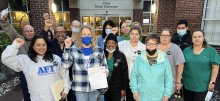 Our coalition is grateful for the support of our community and that of our sisters and brothers in labor. Any excess funds received will be used to support future hardships of members in good standing with AFT Connecticut-affiliated local unions.
Click here to make a donation to the WCMH Employees United Hardship Fund.